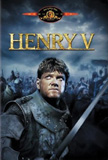 Henry V - DVD

ISBN: 079284615X
Length: 140 minutes
Edition: DVD
Code: HV-M
Price: $17.95
ORDER HERE
He ruled a massive empire…and fought a mighty war! Kenneth Branagh, Paul Scofield, Derek Jacobi, Ian Holm, Emma Thompson and Judi Dench star in this Academy Award-winning, heroic, action-packed epic based on the timeless play by William Shakespeare. Recently crowned King of England, Henry (Branagh) commands a massive invasion to assert what he believes is his legal right to the throne of France. But a mighty army stands in his way, and the young monarch must rely on untested reserves of courage and cunning as he personally leads his outnumbered forces into a desperate battle for the honor and glory of the British Empire.
This DVD contains the following language tracks: English with optional French and Spanish subtitles. This movie is rated PG-13
Great Catholic Christian Family DVDs
Did Jesus Really Rise from the Dead?
The Biblical Story of the Mass - DVD
Don Camillo and The Return of Don Camillo - DVD
Dream With Me - Artist: Jackie Evancho - DVD
Extreme Mercy - Fr. Donald Calloway's Conversion Story
Gifts From God - The Papacy and Confession - DVD
John Paul II - The Man, The Pope, and His Message - DVD
Changing Sides - DVD
How a Pro-life Presence Changed the Heart of a Planned Parenthood Director
Saint Anthony - The Miracle Worker of Padua
To Be Born - Words of Love, Cries of Mercy
Vianney Speaks - The Powerful Sermons of St. John Vianney
New DVDs on Padre Pio and Sr. Faustina:
New DVDs - 3 Documentary Films in one DVD
Other Documentary Videos on
Sr. Faustina, Padre Pio and Apparitions at Medjugorje
St. Pio of Pietrelcina and St. Faustina
Pious Publications
"Seeing Is Believing" Video Library
From San Giovanni to Heaven - Documentary Film on Canonization of Padre Pio - St. Pio
The Beatification of Padre Pio
The Life of Sister Faustina - The Apostle of Divine Mercy
Spanish Edition - La Historia De Sor Faustina
A Celebration of Padre Pio - Pray, Hope, and Don't Worry
Spanish Edition - Homenaje Al Padre Pio
St. Padre Pio - At The Gates of Heaven
Medjugorje - The Miracles and The Message
Sister Faustina - The Promise of Mercy
The Beatification of Sister Faustina - Join the Celebration
Padre Pio's San Giovanni - "I Can Refuse No One"
HLI - Human Life International Pro-Life Material, Pro-life Books, Audio CDs and DVD Videos